This Sunday, I will give a talk to The Owen Society for Hermetic and Spiritual Enlightenment, my Steampunk esoteric group. I have given several talks in the past to this group on different topics.
This time, my topic is "John Michael Greer and the Steampunk Future". John Michael Greer is an author, Archdruid and polymath who writes on a wide variety of topics. Specifically I will be covering some of his writings about Peak Oil, the decline of Industrial civilization in general and American culture specifically, and his suggestions for personal actions to make the slide down a little easier, as covered in his blog the Archdruid Report.
I have written about John Michael Greer several times in this blog over the years, especially here
The talk is over brunch at a pleasant local restaurant. It requires an RSVP, and space is limited. The information is here. The Owen Society is one of my favorite groups, and the people are delightful – creative, supportive and stylish.
.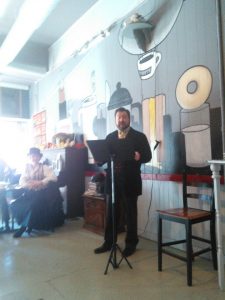 My last talk at the Owen Society,
"Food of the Gods"